2016.02.21 / BLOG 告知(Notice) 



御挨拶(Greetings)
5LINKSの公式ブログが始まります。
その第一回目が、まだ寒い、早春の2月であることは、私にとって大変幸運です。
東京近郊の今日の気温は、昼16度夜7度です。
日本は「春」「夏」「秋」「冬」の「四季」がはっきりしています。
東京も、ようやく寒い「冬」が終わり、暖かい「春」が近づいて来ました。
会社の近くでも、「白梅」続いて「紅梅」や「桃」の花が咲き始めました。
厳しい季節に耐えた木々が、ようやく枝を伸ばし、硬いつぼみが開き始めます。
私は、この時期が大好きです。
昼間は、良いお天気だったので、展示用の5LINKSを持って、お花見に出かけました。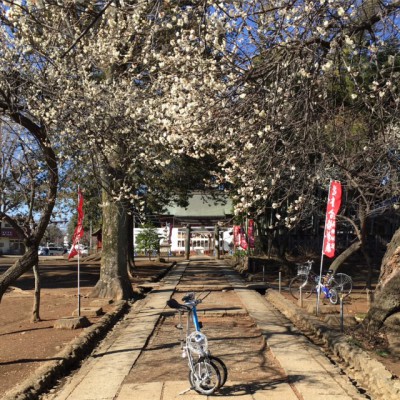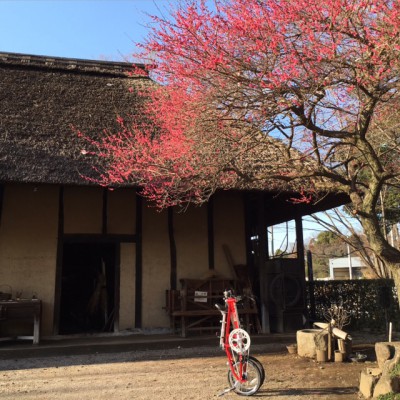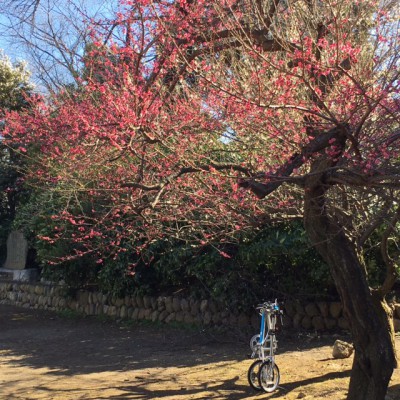 最近の多くの日本人は、花見をするのに一番美しい花は「桜」と言います。
しかし私は「梅の花見」が大好きです。
私は、この植物の活動に、自分達の日々の生活を重ね合わせます。
冬に耐え、まだ寒いこの時期に枝を張り、力強く花を咲かせる姿に、生命の営みのたくましさを感じます。また、来る暖かい春に、希望を持ちます。
5LINKSは、少し変わった形の折り畳みの自転車ですが、日本で、発想され、設計が行われました。
現在のモデルは「台湾」で量産されています。「台湾」は世界の高級自転車の95%を製造していると言われる、自転車大国です。ほとんどの有名なブランド自転車が台湾で作られています。
しかし、5LINKSは、その「外観のデザイン」「コンセプト」に、日本の「自然」や、「季節」「風土」引いては「日本人の生活・思考」から大きな影響を受けている、と考えています。
このブログでは、5LINKSに関することを、いろいろな視点から書いていきたいと思います。
どうぞ宜しくお願いいたします。
We will start our official blog of 5LINKS.
It was said today's temperature in the suburbs of Tokyo where we have our office is 16℃ in the daytime and 7℃ at night. It is very lucky that I can write the first one in this early spring of February when it is still chilly. In Japan we have four seasons, each of which is clearly distinguished from others. And now cold "winter" is almost over and I feel warm "spring" is approaching to Tokyo at last.
Even near our office, "red plum blossoms" and "peach blossoms" began to bloom followed by "white plum blossoms". Trees that withstood a severe season, extending the branches finally, began to open the hard buds. I love this time. As it was such a good weather, I went out to enjoy the blossoms with a 5LINKS.
Many modern Japanese say "cherry blossoms" are the most beautiful flowers to see, but I personally prefer plum blossoms.
I can superimpose the activities of this plant and the day-to-day life of our own.
Having survived cold winter, plum trees spread their branches and bloom their blossoms strongly although it is still cold, by which we feel power of life. And the fact warm spring comes again brings us hope.
5LINKS is a folding bicycle of rather unique style which was considered and designed in Japan from the first place. And now 5LINKS is being produced in Taiwan where 95% of world high quality bicycles are made. Bicycles of most of famous brands are made in Taiwan. Nevertheless we think 5LINKS is, in part of the appearance and the concept, very much influenced by the Japanese nature, the seasons, the climate, and also the way of life and thinking.
In this blog, I would like to write something about 5LINKS from various points of view.
I hope you will enjoy it. Thank you.
5LINKS的官方部落格開始運作了。
第一次的部落格,雖然還有點冷對我而言我覺得很幸運。因為春天已提早在2月到來。東京近郊今天的溫度白天16度,晚上7度。
在日本「春」「夏」「秋」「冬」都很明顯。東京寒冷的「冬天」終於結束,溫暖的「春天」俏俏到來。公司附近「白梅」綻開後換「紅梅」然後是「桃」的花也接連綻放。經歷嚴冬天考驗的樹木,也都展開枝頭,綻放新芽。
我最喜歡這個時候了。中午天氣好,就帶著5LINKS的展示車外出賞花去。最近日本人賞花被選為最美的花是「櫻花」。但我個人喜歡觀賞「梅花」。好像是跟自己的日常生活重疊了的感覺。寒冷冬天裏也努力綻放的生命力另人感到欽佩。對於即將來臨的春天也會因此而充滿了希望。
5LINKS是一台有著特別外形的折疊車。來自日本的構想跟設計。現行車款是在台灣生產。據說世界上高級車的95%都是在「台灣」生產,是自行車大國。幾乎所有有名的自行車品牌也都是在台灣生產。儘管如此,5LINKS的「外觀設計」「概念」還是源自於「日本人的生活·思考」,並且深受日本的「自然」「季節」「風土人情」影響。
今後將透過這部落格,跟大家分享不同角度的5LINKS。也請多多指教。